Healing of the Nation (2022)
Reggae Classics

Dutch premiere of new documentary on ganja as a source of healing in Jamaica this Friday in Melkweg, Amsterdam.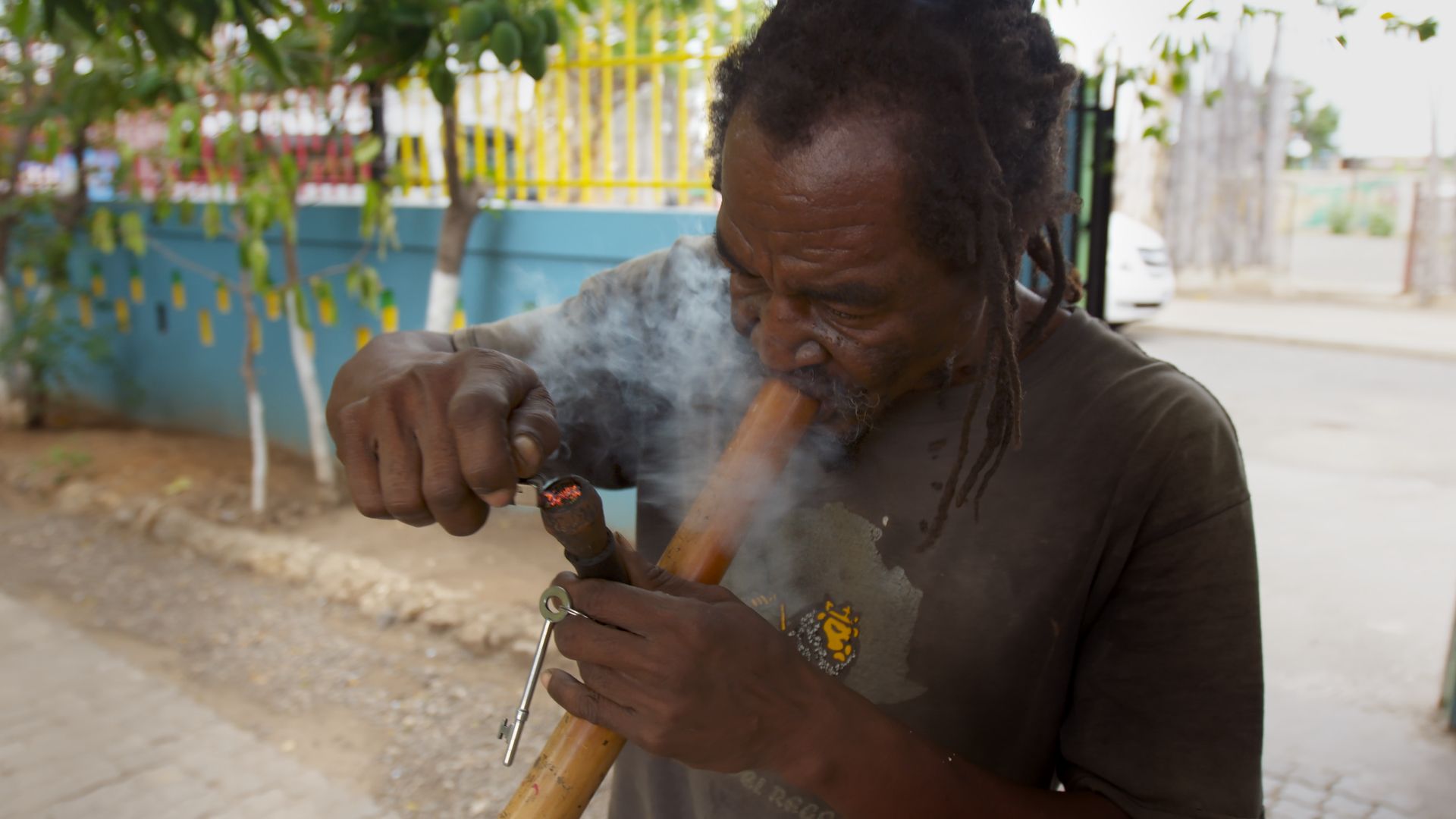 This 𝗙𝗿𝗶𝗱𝗮𝘆, 𝗡𝗼𝘃𝗲𝗺𝗯𝗲𝗿 𝟮𝟱, at 𝟳𝗽𝗺, the last 𝗥𝗲𝗴𝗴𝗮𝗲 𝗖𝗹𝗮𝘀𝘀𝗶𝗰𝘀 of this year will feature the 𝗗𝘂𝘁𝗰𝗵 (and even 𝗘𝘂𝗿𝗼𝗽𝗲𝗮𝗻!) 𝗽𝗿𝗲𝗺𝗶𝗲𝗿𝗲 of 𝗛𝗲𝗮𝗹𝗶𝗻𝗴 𝗼𝗳 𝘁𝗵𝗲 𝗡𝗮𝘁𝗶𝗼𝗻: 𝗚𝗮𝗻𝗷𝗮 𝗶𝗻 𝗝𝗮𝗺𝗮𝗶𝗰𝗮 (2022), a documentary exploring the potential of ganja (i.e. cannabis or marijuana) as a source of healing for the Caribbean island nation of Jamaica! The film will be introduced by 𝗗𝗲𝗿𝗿𝗶𝗰𝗸 𝗕𝗲𝗿𝗴𝗺𝗮𝗻, chair of the Union for the abolition of cannabis prohibition (VOC). In addition, we will be showing the two great short films 𝗠𝗲𝘀𝘀𝗮𝗴𝗲 𝗳𝗿𝗼𝗺 𝘁𝗵𝗲 𝗜 𝗮𝗻𝗱 𝗜: 𝗔 𝗥𝗮𝘀𝘁𝗮 𝗦𝘁𝗼𝗿𝘆 (2020, 3′) and 𝗦𝘁𝗿𝗶𝗰𝘁𝗹𝘆 𝗧𝘄𝗼 𝗪𝗵𝗲𝗲𝗹 (2022, 10′) as well as the compelling music video (and basically also a short film) 𝗝𝘂𝘀𝘁𝗶𝗰𝗲 (2021, 5′) by reggae artist 𝗞𝗲𝘇𝗻𝗮𝗺𝗱𝗶. All in all, the upcoming 𝗥𝗲𝗴𝗴𝗮𝗲 𝗖𝗹𝗮𝘀𝘀𝗶𝗰𝘀, the last edition of 2022 in celebration of 𝗝𝗮𝗺𝗮𝗶𝗰𝗮 𝟲𝟬, will be all about rural Jamaica and the role of ganja. Of course there will also again be Jamaican snacks from 𝗥𝗲𝗴𝗴𝗮𝗲 𝗥𝗶𝘁𝗮 and reggae tunes as soon as you enter the cinema!

Please switch to the Melkweg website for more information and tickets.